Violin. Viola. Piano
Violin Lessons. Piano Lessons
Fox Park Music Studio is tuition based education located in St. Louis, MO, inspired by Shinichi Suzuki's Talent Education model utilizing music instruction to help in the holistic development of children. Private lessons are given on a weekly basis on violin, viola, and piano, in conjunction with twice monthly group classes.
When love is deep, much can be accomplished

-Shinichi Suzuki
About the Teacher
Julia Proleiko received her Bachelor of Music from the University of Missouri-Kansas City Conservatory of Music. After graduating, she began her study of the Suzuki Method, working with teacher trainers Patricia D'Ercole, Joe Kaminsky & Ed Sprunger on violin; William Preucil on viola; Carolyn Fraser, Rita Hauck, Joan Krzywicki & Cathy Hargrave on piano, as well as observing and learning from teachers all over the United States in workshops, institutes and in their private studios and schools. She has taught both in public and private schools and, except for a few sojourns in Russia and China, has maintained a private studio since moving to St. Louis in 1997. When not doing music, she enjoys gardening, biking, taking hikes with her family, doing yoga, and curling up with a good book with her cat.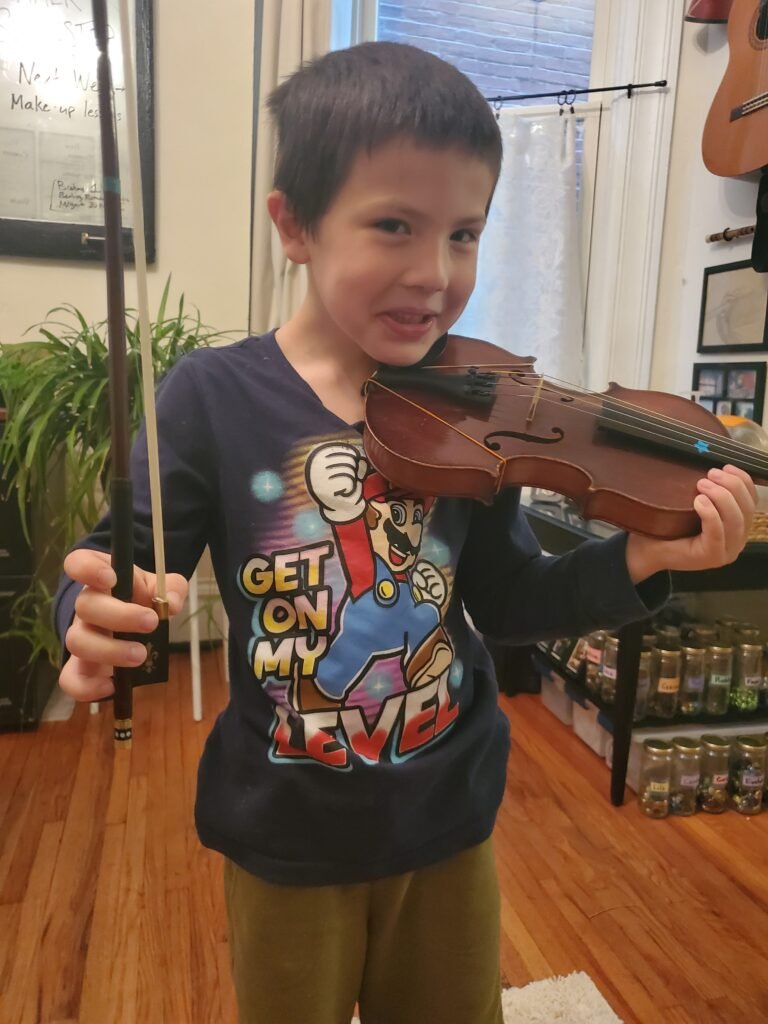 "Any child can be developed; it depends on how you do it."

– Shinichi Suzuki
Important Skills Developed Through Musical Training
Creative Problem Solving
Abstract Reasoning
Critical Thinking
Delayed Gratification
Focus & Concentration
Discipline
Cooperation
Memory
Attentiveness & Listening
Coordination & Fine Motor Skills
Self-Expression
F.A.Q.
Are you accepting students?

Yes! There are a few spots open during the week, mostly during home-schooling hours.

What ages do you accept?

Students ages 3 and up are accepted once parent has completed Parent Training Course. (And, YES! Adults are welcome as well.)

What method do you use?

For all three instruments: the Suzuki method with its accompanying repertoire and recordings are utilized; however, it is supplemented with standard and non-standard repertoire, etudes, and other materials.

What is tuition?

Tuition is charged by a semester of eleven 45 minute private lessons in addition to regularly scheduled group classes.
| | | | |
| --- | --- | --- | --- |
| Semester | Dates | Tuition | By the Month |
| Fall 2022 | Aug 29 – Dec 3 | $627 | $214 due by 1st of Sep, Oct, and Nov |
| Winter 2022-23 | Dec 5 – March 4 | $627 | $214 due by 1st of Dec, Jan, and Feb |
| Spring 2023 | Mar 6 – May 26 | $627 | $214 due by 1st of Mar, Apr, and May |
Tuition paid by the School Year (Fall, Winter, & Spring) will receive a $50 discount.